North Geelong Veterinary Clinic
We love your pets,


just like you do
Opening Hours
Mon – Fri: 8am – 7pm
Sat: 8am – 3pm
Sun: Closed
Address
278 Church St, Hamlyn Heights VIC 3215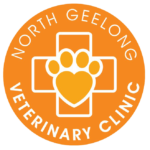 About Us
North Geelong Veterinary Clinic has been providing quality service and advice for Geelong's pet owners since 1983. We're proud to say that many of our clients have been with us from the beginning.
Our team is committed to providing your pets with the highest standard in veterinary care and ensuring that your pets live a healthy and pain-free life. We are also dedicated to supporting, educating and helping you to be the very best owner that you can be.
The clinic underwent a complete transformation recently, with equipment and facility upgrades ensuring that we have kept pace with advances in medical technology to be able to treat your pets using the highest quality methods.
★★★★★
"The best vets in town. Friendly and professional."
Sally – Google Review
★★★★★
"Absolutely amazing clinic and very caring staff."
Emma – Google Review
★★★★★
"Very kind and well trained professionals, know their stuff and great place to rely on for your pet's health."
Guy – Google Review
★★★★★
"We were impressed with the standard care and attention. Not only was our our dog at ease, but I really appreciated the way you explained everything to our Primary school aged children, who were keen to be involved."
Mike –  Google Review

Make a Booking
You can book your next (or first) appointment at North Geelong Veterinary Clinic anytime with our online booking form. Fill in your details and our friendly team will get in touch to confirm your booking. Simple.
You can also book by calling our team during business hours.

Our Services
With our expert team and best-practice facilities we can provide almost everything you need in-house. We always put your pet's health and well-being first, and will suggest referrals for specialist procedures where needed.

General Veterinary Consults






Home Visits
(Conditions Apply)







Our Communities
We're proud to help pet lovers all over Geelong enjoy long, happy, and healthy lives. These are some of the communities that we work with.

Our Community
Stay up to date with the latest news and events on our Facebook page.

Opening Hours
Mon – Fri: 8am – 7pm
Sat: 8am – 3pm
Sun: Closed